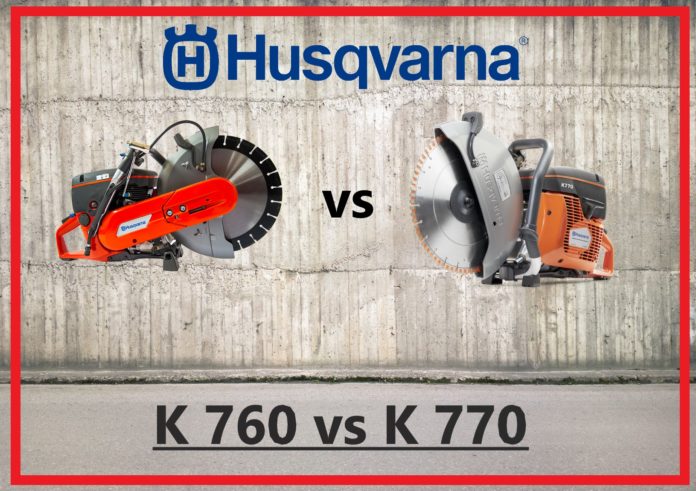 In this corner, the NEW Husqvarna K 770 vs the old trusty Husqvarna K 760. The 760 has been an industry leader in gas cut off demo saws for a long time, but like most things, there comes a time for an upgrade. However, if you own an i phone, you know that not all upgrades actually improve the product. Below, we will talk about some of the new features and make a decision on if the upgrade is worth it. Here it is, Husqvarna K 770 vs K 760.
One of the biggest upgrades for the Husqvarna K 770 is the spring loaded, semi-automatic Smart Tension system. In short, this is a fancy term for keeping belt tension optimal. With 760's a common complaint that the belts would loosen up and in turn, the power of the saw would weaken… Well, worry no more, because this technology is as legit as it comes. This is a huge improvement.
The other improvement I think is worth mentioning is that the diamond blade can be positioned on the right side of the cutting arm. This is huge because it allows you to cut closer to a wall. This is a very cool new feature.

As you can see from the Husqvarna saw comparison above. Most of the key specs are very similar. Like I mentioned before, the smart tensioning is the real selling point to the new saw. Husqvarna is definitely excited about the power to weight ratio, which basically means, the saw got slightly heavier, but in turn, got more powerful. Here are some of the specs:
Husqvarna K770 Power Cutter Specifications
Item Number: Husqvarna K770
Fuel Source: Gas
Cylinder Displacement: 4.48 cubic inches
Output Power: 5 horsepower
Blade Diameter: 14 inches
Weight: 22.4 pounds
Cutting Depth: 5 inches
Price $919.97
In conclusion, I think the saw improvements are solid. With the extra power, extra saw life and claimed less saw maintenance, the 770 is an improvement on an already great cut off saw.